Morton Hospital Honors Lakeville Fire Department "EMS Stewards of the Community" Award Recipient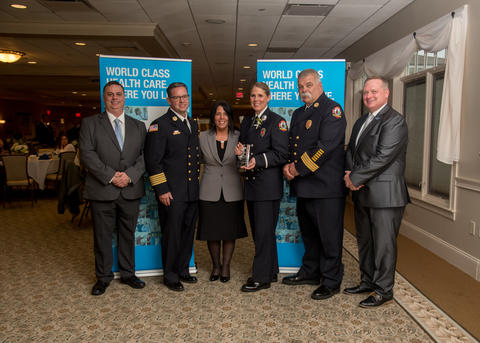 In celebration of National Emergency Medical Services (EMS) Week, Steward Health Care hosted the third annual "EMS Stewards of the Community" award ceremony on May 20 at the Tirrell Room in Quincy, Mass.
Dallas-based Steward, which operates nine hospitals across Massachusetts, recognized 19 EMS providers. Among these was Lieutenant Pamela Garant of the Lakeville Fire Department, who was recognized for "going above and beyond" in her interactions with patients at Morton Hospital and for her dedication to her community.
Appointed to the Lakeville Fire Department two years ago, Garant has more than 34 years of first responder experience. She was nominated by the department's Fire Chief, Michael O'Brien, who praised her infectious enthusiasm, her ability to comfort with care and to connect personally with those she serves.
Garant is also heavily involved in the department's community outreach initiatives, teaching educational programs at the Lakeville Council on Aging and serving as a mentor to local high school students through the department's intern program.
The "EMS Stewards of the Community" awards show appreciation for emergency medical responders, emergency medical technicians and advanced emergency medical technicians, and paramedics who not only carry out the noble work of caring for others, but do so with a high degree of expertise, professionalism, and compassion. An internal committee of physicians and EMS directors selected nominated recipients among current providers in communities served by Steward.
Massachusetts State Police Trooper Christopher J. Dumont, EMT-P, delivered the "Stewards of the Community" keynote address. Trooper Dumont helped save the life of Transit Officer Richard Donohue, who was shot by one of the 2013 Boston Marathon bombing suspects. Because of his heroic actions, Dumont received the Medal of Honor, the highest award given by the Massachusetts State Police.