COVID-19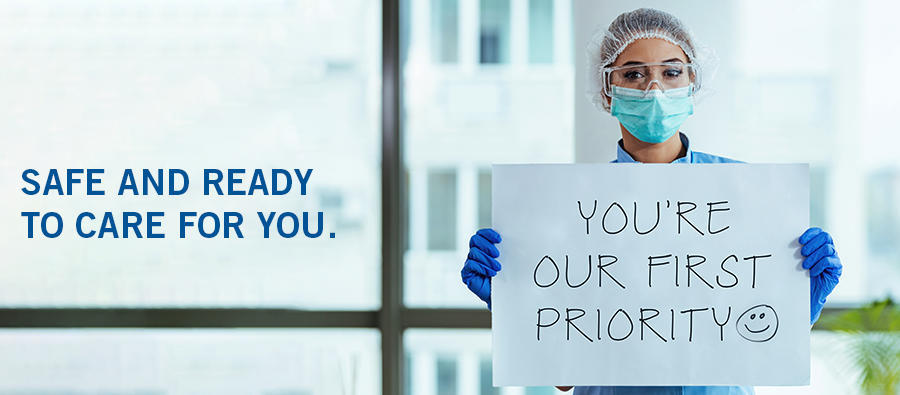 At Morton Hospital, we're taking precautions to make sure our hospital is clean, safe and ready for your next visit.
Your health and safety are our top priority.
IMPORTANT INFORMATION ABOUT VISITING RESTRICTIONS
Morton Hospital is fully prepared to care for our patients and community. We remain ready to serve all of your health care needs and have taken the necessary steps to ensure patients can receive care in a safe environment. 
Our stringent safety measures include: mandatory wearing of masks, social distancing in waiting areas, and vigilant cleaning in all areas, which includes the use of EPA-registered, hospital-grade disinfectants validated for use against COVID-19. We also pre-screen all patients registered for procedures, and screen everyone before they enter the hospital. 
VISITOR RESTRICTIONS EFFECTIVE MARCH 22, 2021 UNTIL FURTHER NOTICE
Inpatient Units: We will be allowing one (1) adult visitor at a time to inpatient units, during our designated visiting hours of 12 - 2 pm and 5 - 7 pm ONLY. Please contact your care team prior to visiting to discuss any exceptions. All guests are required to enter through the main hospital lobby. Visitors are asked to remain in the patient's room at all times, and refrain from eating or drinking during the visit to ensure masks remain on at all times. 
Emergency Department: One (1) adult visitor at a time will be allowed 24/7.
Exceptions may be made in certain circumstances:
Pediatric care (ONE parent/guardian will be permitted).
Other extenuating circumstances (such as hospice and end-of-life care) will also be considered based on the best interest and needs of the individual patient. All exceptions must be approved by the care team.
Visitation may be prohibited on a case-by-case basis if patient is positive or shows symptoms of COVID-19, or if visitation poses a significant infection control risk to the patients, visitor or staff.
Please note: for patients with physical and intellectual disabilities, ONE support person over the age of 18 is permitted. Support persons must pass our screening process, and there are no restrictions on visiting hours for support persons. 
Visitors and caregivers qualifying for these exceptions must:
Meet clinical criteria used for general visitation, i.e., pass COVID-19 screening, which includes a symptom check. 
Use PPE appropriate for the patient they are supporting. In the event the patient is COVID positive, the support person must use hospital-provided PPE. 
Wear a face mask for the duration of their visit. Surgical masks will be provided to visitors. Scarves, bandanas and handkerchiefs are not allowed. Refusal to wear a mask will result in the revocation of visitation privileges. 
Additional considerations: 
• Outpatient Appointments: No visitors will be allowed in these areas or their waiting rooms. Designated exceptions apply with the approval of clinical staff. The hospital offers patient transport services as well as interpreter services to assist patients requiring this type of support during their visit. 
• Surgical Patients: 1 visitor/family member/support person may accompany the patient to Day Surgery and Pain Clinic appointments. Socially-distanced seating is available in our Day Surgery Center waiting area. 
While we are sensitive to the difficulties facing loved ones of hospitalized patients, our health care team must keep our patients and staff safe during this unprecedented health emergency.
We encourage family members and friends to use alternative ways to interact with their loved ones, including phone calls, Facetime and Google Duo.
COVID-19 TESTING CLINIC HOURS OF OPERATION 
Our outpatient clinic is open during the below hours and accessible via the Main Lobby entrance of the hospital. A provider order is required for testing. 
Monday - Friday: 8 am - 2 pm for all testing 
Saturday and Sunday: Closed 
Hours for Upcoming Holidays: 
Monday, April 19th (Patriot's Day): open 8 am - 12 pm for pre-surgical/pre-procedure COVID testing ONLY 
Monday, May 31st (Memorial Day): CLOSED 
 
Click here for a list of additional testing sites in the area. 
Click here for Frequently Asked Questions about our Clinic and test results. 
Click here for instructions on how to get your COVID-19 test results. 
VACCINATION INFORMATION 
All Massachusetts residents can preregister to book an appointment at a mass vaccination site at mass.gov/COVIDVaccine.
Appointments will be offered based on eligibility and available appointments nearby. It is expected that more sites will come online as part of the preregistration process in April.
Timeline for remaining groups:
March 22nd: Residents 60+ and certain workers
April 5th: Residents 55+ and residents with one certain medical condition
April 19th: General public ages 16 years of age and older
There is also a Vaccine Scheduling Resource Line to help residents 75 and older more easily schedule an appointment if they do not have internet or are unable to use the websites. The line is open Monday through Friday from 8:30 AM – 5:00 PM. The line can be accessed by dialing 2–1–1 and selecting the prompt for "Help Scheduling a Vaccine Appointment.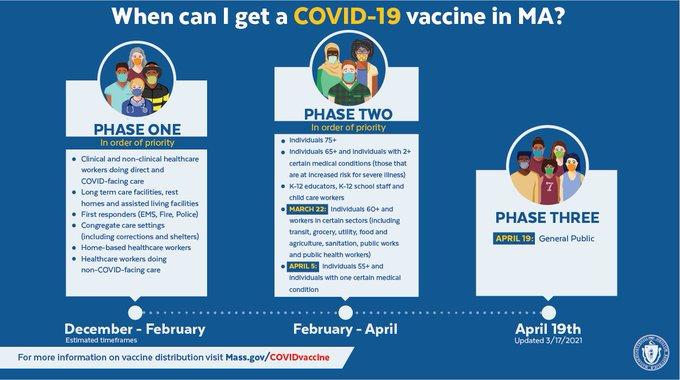 HOSPITAL ENTRANCE RESTRICTIONS 
Our Emergency Department entrance remains open 24/7 for emergency visits. 
Our Main Lobby doors will be open for patients presenting for outpatient services or COVID-19 screening, as well as for visitors for inpatients, during the following hours: 
Monday – Friday
7 am - 7 pm
Saturday and Sunday
7 am - 5 pm 
During all other hours, outpatients and visitors should enter through the Emergency Department doors.  
(Note: lobby door hours may change on holidays, etc.)