Brewster Ambulance EMS Providers Win Inaugural "EMS Stewards of the Community" Awards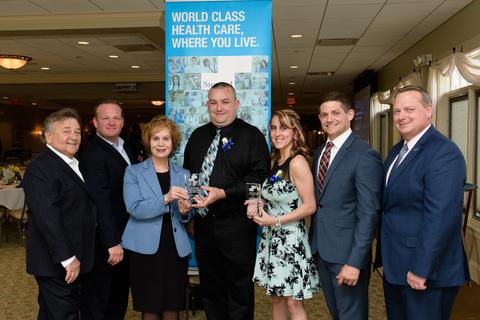 In celebration of National Emergency Medical Service (EMS) Week, Steward Health Care System hosted the inaugural "EMS Stewards of the Community" Award Ceremony on May 23 at The Tirrell Room in Quincy. Boston-based Steward, which operates ten hospitals across Massachusetts, recognized 14 EMS providers including Brewster Ambulance's Christopher Darling and Victoria Nicholas for going "above and beyond" in their interactions with patients at Morton Hospital.
"EMS providers are unsung heroes on the front lines in the battle against illness and injury," said Morton Hospital President Deborah Bitsoli, who presented the awards to Darling and Nicholas. "We are immensely proud to unveil the 'EMS Stewards of the Community' to honor their hard work and commitment to quality care."
The "EMS Stewards of the Community" awards show appreciation for emergency medical responders, emergency medical technicians and advanced emergency medical technicians, and paramedics who not only carry out the noble work of caring for others, but do so with a high degree of expertise, professionalism, and compassion. An internal committee of physicians and EMS Directors selected recipients from among providers in current practice in a Steward Hospital area.
Roseann Sdoia, injured during the 2013 Boston Marathon bombing, delivered the "Stewards of the Community" keynote address, telling her story of strength and perseverance. As Sdoia waited for a friend to finish the race, the second bomb went off right next to her; she ultimately lost her right leg due to injuries sustained on that horrific day.
"If it weren't for first responders like those being honored tonight, I might not be standing with you here today," said Boston Marathon Bombing Survivor Roseann Sdoia. "It is human instinct to flee an emergency for safety and yet these courageous men and women willingly rush into dangerous situations every day – they are and forever will be my heroes."