At Morton Hospital, you can guarantee that you'll receive the best possible care before,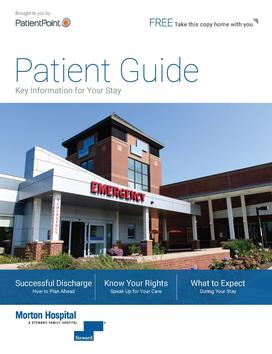 during, and after your hospital stay. We believe in in caring for everyone – patients, family, and guests – as we would for one of our own family members.
All of Morton Hospital's staff members are considered an integral part of your health care team and strive to make your stay with us a comfortable one by attending to your individual needs. From our physicians and nurses to our patient hospitality staff, as well as the many people behind the scenes, it is this team effort that is the trademark of our care.
Our patient experience information has been designed to make your stay worry-free by providing you and your family with essential information about the services and resources available to you at Morton Hospital. 
Please click on the digital Patient Guide to the right to learn more about your experience as a patient at Morton Hospital. 
Thank you for choosing Morton Hospital for your health care needs.