Patient Portals
Patient & Visitor Information
Flowers, Cards & Gifts
Our "Comfort Corner" gift area is located in our Cafeteria and offers a variety of gift items for patients and visitors, including cards, flowers, stuffed animals, and more. 
Our Patient Information Guide
Click on the image below to view our guide, which includes helpful information about your stay at Morton Hospital.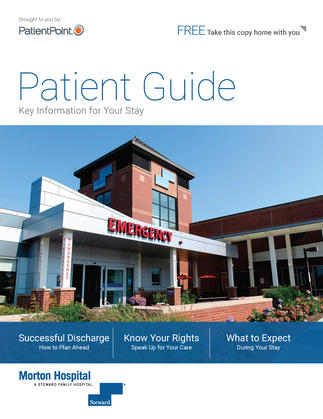 IMPORTANT INFORMATION ABOUT VISITING 
Morton Hospital is fully prepared to care for our patients and community. We remain ready to serve all of your health care needs and have taken the necessary steps to ensure patients can receive care in a safe environment. 
Our stringent safety measures include: mandatory wearing of masks and vigilant cleaning in all areas. 
VISITOR POLICY EFFECTIVE 2/22/23:
To best ensure the health and safety of our patients and staff, visitor restrictions are currently in place. 
Inpatient Visitors: 
Each patient may have two (2) visitors at a time. Exceptions may be made in special circumstances such as end-of-life care. 
Appointments are required and must be made in advance for visitation of patients in our Elder Behavioral Health Services (EBHS) Unit. 
In most cases, visitation will be restricted for COVID+ patients. 
Emergency Department Visitors: 
Each patient may have two (2) visitors at a time. 
Guests of patients: for your health and wellness, and to avoid overcrowding of our ER waiting room, please consider waiting in your vehicle or visiting our Cafeteria while not visiting and until your loved one is seen and discharged home. 
Outpatients: 
Guests or family members may accompany each patient to their outpatient appointments. We ask that the number of guests are limited to avoid overcrowding of our waiting areas. 
All Visitors, Outpatients and Outpatient Companions must: 
Self screen for symptoms of COVID-19, including symptoms or diagnosis in the last 10 days. 
Visitors: check in at the desk to confirm the patient's location and be notified of any visitor restrictions. 
Refer to signage at the hospital entrances for the latest guidance and policies. 
Wear a clean and properly fitting mask at all times. Hospital masks will be available to any patient or visitor who needs one. 
Perform hand hygiene upon entering the hospital, and support social distancing when inside the facility. 
We encourage family members and friends to use alternative ways to interact with their loved ones, including phone calls, Facetime and Skype. 
Visitors: If you have symptoms of COVID-19 or have been diagnosed with COVID-19 within the last 10 days, please do not visit at this time.