Morton Hospital Hosts Career Exploration Day with Local Students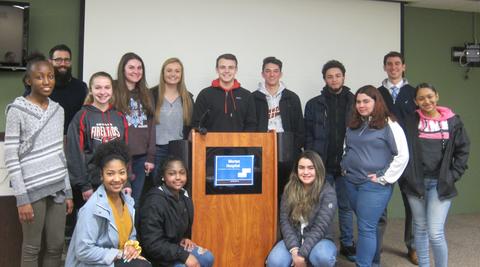 Morton Hospital recently partnered with Taunton Area School to Career (TASC) and local high schools including Taunton High School and Bristol County Agricultural High School, to host a career exploration day for local students interested in the field of health care.
On March 20th, some 25 students, 12 adult career mentors and several educators participated in a half-day program which included a tour of the hospital's Emergency Department and presentations by various health care professionals who spoke about careers in the areas of respiratory therapy, physical therapy, nutrition, interpreter services, emergency services and nursing.
"There are so many exciting and rewarding careers in health care, and it's important for us to educate local students who will soon be entering the workforce about the opportunities available to them," said Deborah Bitsoli, Morton Hospital president. "We currently have many student programs established at Morton Hospital, including our accelerated CNA training program in partnership with Coyle and Cassidy High School, and our student internship program with Taunton High School. We look forward to continuing these type of educational and career training programs within the community in the months to come."
The hospital already has plans to host another career exploration day with TASC on May 20th.
"Kudos to Morton Hospital for opening their doors and having their staff give some great presentations to a large group of high school students. While many youth express interest in health care, most are not aware of the variety of career options that exist within the medical field," said Dan LeBrun, TASC Program Director. "THS and BA students in our Career Mentoring Program, along with students from a Healthcare Sciences class at Taunton High, all came away from Morton's well-rounded career exploration day with a much better understanding of potential career pathways. It is always worthwhile to help youth explore careers, and to connect school learning with real world jobs."
About Morton Hospital
Morton Hospital is a 112-bed acute-care hospital providing comprehensive inpatient, outpatient and 24/7 emergency services to Taunton and the communities of southeastern Massachusetts. The hospital's strengths include emergency medicine, diabetes care, imaging services, orthopedics, rehabilitation services, surgery and wound healing. Morton Hospital is part of the Steward Health Care Systems LLC, the largest integrated community care organization in New England which combines over 3,000 physicians, 11 acute care hospitals, managed care, insurance programs, home care, an imaging operation, and a number of other post-acute services, to provide the most cost effective and highest quality of integrated patient care. Additional information is available at www.Mortonhospital.org
About Steward Health Care
Steward Health Care is the nation's largest private, tax paying physician-led health care network in the United States. Headquartered in Dallas, Texas, Steward operates 36 hospitals in the United States and the country of Malta that regularly receive top awards for quality and safety. The company employs approximately 42,000 health care professionals. The Steward network includes multiple urgent care centers and skilled nursing facilities, substantial behavioral health services, over 7,900 beds under management, and approximately 2.2 million full risk covered lives through the company's managed care and health insurance services.
The Steward Health Care Network includes 5,000 physicians across 800 communities who help to provide more than 12 million patient encounters per year. Steward Medical Group, the company's employed physician group, provides more than six million patient encounters per year. The Steward Hospital Group operates hospitals in Malta and nine states across the U.S., including Arizona, Arkansas, Florida, Louisiana, Massachusetts, Ohio, Pennsylvania, Texas, and Utah.
About Taunton Area School to Career
Taunton Area School to Career (TASC), a program of Associates for Human Services, Inc., is a Business and Educational Partnership that connects Taunton area employers with local school systems, and links students with the world of work and career. TASC offers sometimes life-changing Career Development Education opportunities – like Career Mentoring and internship/work experiences – to at-risk and other students from Taunton High School, Taunton Alternative High School, and Bristol County Agricultural High School.
TASC's mission is "Empowering Youth to Succeed," and involves bridging business and education to improve tomorrow's workforce. The program currently serves students from Bristol County Agricultural, Taunton Alternative, and Taunton High Schools. It became a program of AHS in January of 2016.
Associates for Human Services, Inc. (AHS) is a not-for-profit agency founded 44 years ago to meet a wide range of human services needs in Attleboro, Brockton, Middleboro, New Bedford, Norton and the Greater Taunton Area Support services are provided through a variety of programs for infants, toddlers, youth, adults, and seniors experiencing developmental disabilities or delays, as well as families struggling educationally and economically.