Nominate a Nurse for the DAISY Award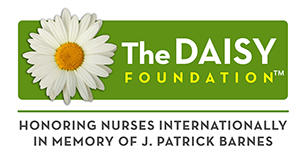 The DAISY Foundation was established in 1999 by the family of J. Patrick Barnes, who died of complications of the auto-immune disease Idiopathic Thrombocytopenia Purpura (ITP) at the age of 33 (DAISY is an acronym for diseases attacking the immune system). During Barnes' eight-week hospitalization, his family was awestruck by the care and compassion his nurses provided not only to him but to everyone in his family. So one of the goals they set in creating was a foundation in his memory to recognize extraordinary nurses, everywhere, who make an enormous difference in the lives of so many people by the super-human work they do everyday.
What is the DAISY Award?
The DAISY Award is an international program that awards and celebrates the extraordinary clinical skill and compassionate care given by nurses everyday. Morton Hospital is proud to be a DAISY Award Partner and will recognize one of our nurses with this special honor every quarter.
To learn more about the program, including the growing list of partners, please visit the DAISY Foundation website.
Would you like to nominate a Morton nurse for the DAISY Award?
Morton Hospital patients, visitors, nurses, physicians and employees may nominate a deserving nurse for the DAISY Award by filling out the DAISY Award Nomination Form.
Nomination forms can be sent to the following address:
Morton Hospital Patient Care Services
88 Washington St.
Taunton, MA 02780
Congratulations to our 2018 DAISY Award Recipients!
February: Nadine Ferreira, Case Management Department
March: Jennifer Conway, Nursing Education
April: Brooke Corley, S1 Unit
May: Chuck Ranahan, Nursing Administration
June: Kelly Lauzon, M2 Unit
July: Jill Cabral, Emergency Department
August: Susan Thomas, Day Surgery 
September: May Atanassov, Day Surgery
October: Michelle DiMattia, Emergency Department
And to all of our amazing nominees:
From our Emergency Department: Kimberly Liston, Kathryn Pirri, Virginia Allard, Deanne Jardin, Heather Galarza, Caroline Walczak, Alison Gomes, Ashley Germaine, Jaime Utley, Robert Brien-Berks, Kristin Newell, Cindy Aguiar and Michelle DiMattia
From our S1 Unit: Audrey Jackson, Allison DeAndrade, Anna Kilian, Ivone Bennett, Jennifer Brioc, Liz Thayer, Sarita Rentas, Heidi James and Kevin Delorey
From our S2 Unit: Erica Zitta
From our M2 Unit: Bob Sammarco, Heather Salvador and Susan Paulson
From our Float Pool: Ann May
From our ICU: Amy Kelly, Colleen Arnoe and Karen Steininger
From our Case Management Department: Erin Doxsee
From our Day Surgery/OR Team: Audrey Pierce and Diane Clark